Features
Built for group business
The Sentro platform offers rich features for insurers, brokers, benefit providers and third party administrators who need to operate and invoice complex group schemes.
---
Configure and go
We've designed Sentro to make it easier for you to match your exact business needs without writing code.

Our data models are extensible, so you can capture the exact information that you need. Key policy documents and user experiences are template-driven for easy updating. Products, plans, benefit rules and rates can be maintained online and are also extensible.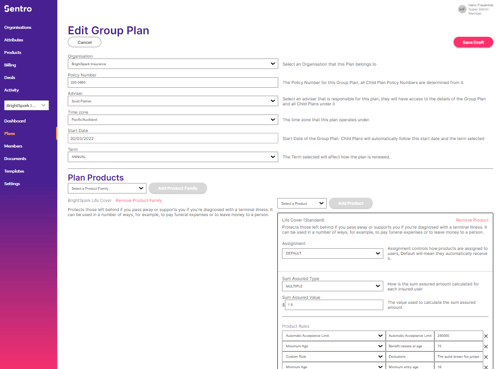 Product Creation
Create new products and benefits with no-code configuration.
Set AAL limits
Define your own benefits
Import rate card
Set automated rules for plan assignment
Easy Member Maintenance
Bulk file and API-based member updates, broker and employer UX, automated product assignment based on data attributes.
Group and Member Policy Documents and Certificates
Sentro lets you customize the look and layout of your policy documents and member certificates - plan by plan if you want.
Billing and Invoicing
Sentro fully pro-rates premium calculation. We support loadings, discounts and tax calculations.
We support fully employer subsided plans, fully voluntary plans, and shared-cost plans.
We automatically charge and credit plans where employee membership information is received late.
Quotes, Plan Installs and Plan Renewals
Plan installs and plan renewals can be time consuming. Sentro makes plan installs easier with Pending State plans. You can easily check and adjust new plans before they go in-force, including plan documents and projected invoicing. Renewals are a breeze with one-click renewals.
Employee and Employer Portals
Enable branded self-service capabilities with employer and employee portals. Offer value-added services and let members update their own information securely.
We always tailor a Sentro implementation to the customer's unique needs. So every cost quotation is unique to the customer.
We call our business approach a 'shared success' model. We do our best to keep up-front costs reasonable, and as the customer's business grows, we also get rewarded.
Generally, there are three elements to our costs:
Configuration and Installation. This is a one-off charge that covers the setup, customization and integrations a customer requires.
Access Fees. This is a monthly base platform licensing charge.
Variable Charges. Based on number of members/lives administered.
Please contact us to discuss your specific requirements.
Sentro runs on Microsoft Azure, and we are a Microsoft Partner.
The Microsoft Azure platform gives us world-class reach, scale and security.
Our customers have run group life, group health and group cyber propositions on Sentro. We can even support non-insurance group propositions like SME employee benefits.
Yes. All Sentro user interfaces can be modified to incorporate your brand and feel.
For our Engage employer and employee interfaces, we can present different looks for each customer.
We also provide a rich API set, so if you have an existing front end, but just need the group data, we can work with you to build that interface.
Sentro is the global InsurTech group insurance specialist. We aim to improve and re-invent the way that insurers and their partners deliver group insurance and other services to business customers. We are driven to make life better for working people, by making it easier for their employers to look after them.
Our team has extensive international experience across the areas of technology, software and management; in industries ranging from telecommunications, insurance, banking and retail. In addition to our existing products, we have delivered a range of other software and technology products in past lives.
We are privately held, with investors from North America and Australasia. We are Microsoft Partners. We have a number of other partnerships we are working on and anticipate announcing these as they are confirmed.
Sentro is software for group insurers and their partners. We specialise in group insurance and benefits.
Our product roadmap is focussed on making delivery of group insurance and group benefits to individuals ever better and more seamless.
We will continue to differentiate ourselves from our competitors by offering our customers rich and usable core functionality, combined with modern integration options and as much configurability as possible. Our partnership with Microsoft is an important aspect of this strategy.
Sentro is sold directly to Group Insurers and group benefits providers. Contact us to find out more.