The operating system
for group insurance
Sentro is the efficient, secure and profitable way to manage group insurance schemes. Run your whole group insurance offering in Sentro or integrate with existing
tools and workflows.
Our mission is to make it as easy as possible for employers to look after their people.
License Sentro as a SaaS platform, or for New Zealand customers, outsource with Sentro TPA Policy Admin Services.

Streamlined member maintenance
Broker, employer & third-party delegation
Branded self-service apps
Multi-scenario quotations
Flexible automated billing
DIY configuration control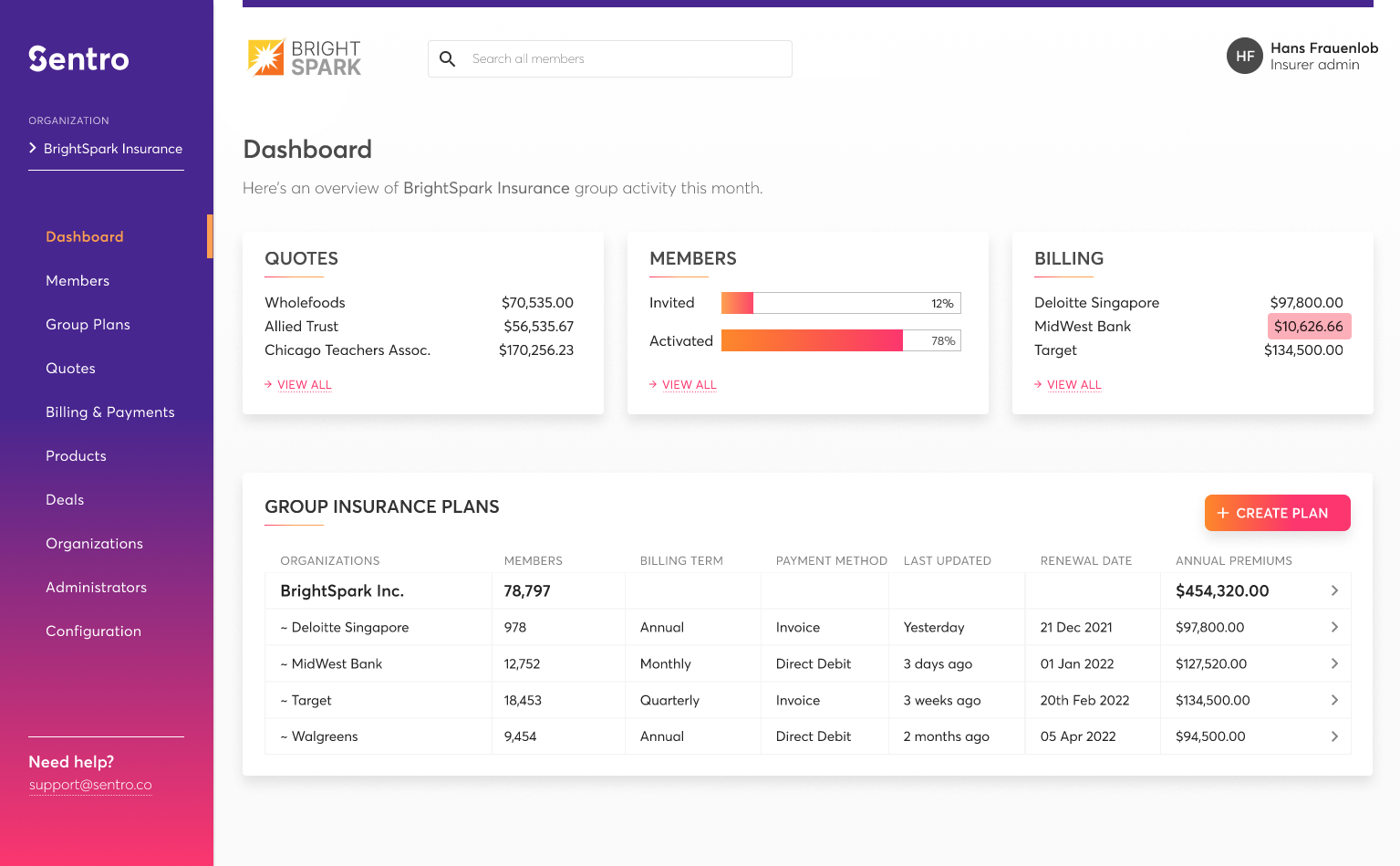 Sentro's web-based group insurance software is quick to configure, cost-effective to run, easy to integrate and easy to change.
Want to see more? Book a demo
Increase member engagement
Fast, low-cost implementation
--- Streamline operations right through the value chain ---
Insurers
Powerful configuration options for group plans and billing.
Brokers
Secure, streamlined member data collection and quoting.
Employers
Member admin delegation, streamlined billing & renewals.
Members
Branded self-service apps, upgrades, top-ups & benefits.
Cloud-based SaaS
Access on any platform, from anywhere, and leave the IT maintenance to us.
No-code config
Fast implementation and powerful, flexible product and billing configuration.
Developer API
Integrate with existing systems and workflows with Sentro's extensive API.
Single sign-on
Sign in with Microsoft or Google for security and easy onboarding.
Innovate fast
With Sentro, insurers get new or existing group insurance and employee benefit schemes launched to market in record time.
Integrate with anything
Use Sentro on it's own or integrate our capabilities into your existing systems and workflows using our powerful, developer-focused API.